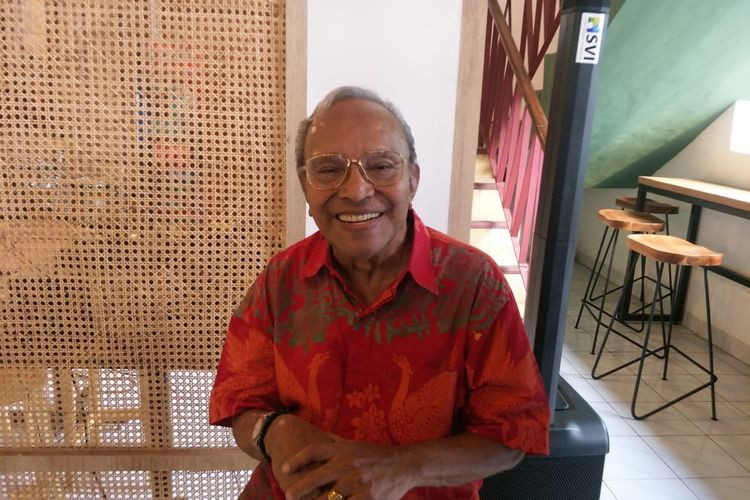 Musical legend: Famed 1960s singer Bob Tutupoly is pictured at Bloc M Space in South Jakarta on Nov. 25, 2019. (KOMPAS.com/Courtesy of Ira Gita) (Kompas.com/Courtesy of Ira Gita)
Radhiyya Indra
The legendary 1960s singer Bob Tutupoly died of complications from a stroke on Tuesday at the age of 82. Music researcher and close friend Stanley Tulung broke the news of Bob's death.
"Bobby Willem Tutupoly returned to our Father's house in heaven at Mayapada Hospital [in South Jakarta just after midnight]," Stanley told kompas.com.
Stanley added that Bob had been in treatment at the hospital for several weeks. The singer had suffered a stroke and had been receiving treatment at his home before the hospitalization.
Born in Surabaya on Nov. 13, 1939, Bobby Willem Tutupoly – better known as Bob Tutupoly or Om (Uncle) Bob – was a famed singer in the 1960s. He later gained nationwide popularity with his performance of the song "Widuri", written by Slamet Adriyadi.
Known for his voice from an early age, Bob sang in hotels and was part of several bands and vocal groups, including the Kwartet Jazz (Jazz Quartet) on Radio Republik Indonesia (RRI) in Surabaya. He then recorded popular songs like "Tiada Maaf Bagimu" (No Apologies For You) and "Tinggi Gunung Seribu Janji" (Mountain of a Thousand Promises) with the famous Pattie Sisters.
After performing in neighboring countries like Malaysia and Singapore, Bob moved to the United States in 1969 at the invitation of Los Angeles-based Indonesian group Venturas to record some music. But nothing materialized, and Bob eventually became a singer at nightclubs in Las Vegas.
In 1976, he returned to Indonesia and recorded the now-classic song "Widuri". He also built his career as an iconic host of quiz shows like Pesona 13 and Ragam Pesona on TVRI. His acting stint can be seen in films such as 1977's Penasaran (Curious) and 2008's Sebelah Mata (Underestimate).
Condolences have poured in from the music and entertainment industry for the beloved senior singer.
"RIP Om Bob Tutupoly. Thank you for everything that you have given to us all. May your path to true immortality be broad," Stanley Tulung posted on his Instagram page.
"Goodbye to the one and only Om Bob Tutupoly. Rest in love," pop band d'Masiv front man Rian Ekky Pradipta wrote on his Twitter account.
"Farewell, Om Bob Tutupoli," fellow musician Addie MS tweeted.