Wilson Tong, chief representative of LifeArt in Hong Kong, believes eco-friendly cardboard caskets and coffins are the way of the future. Photo: Jonathan Wong
LifeArt makes eco-friendly cardboard caskets and coffins in Hong Kong. When burned they emit 87 per cent less greenhouse gas than chipboard or fibreboard ones
The city's funeral industry is largely resistant to the green funeral trend, believing the coffins look cheap and that their use will earn them less profit
Sian Powell
The robot arm zooms back and forth in the workshop of LifeArt in Hong Kong, shaping a sheet of thick, hard cardboard into a modern and environmentally kind cardboard coffin, or eco-coffin.
Wilson Tong, chief representative of LifeArt, the only manufacturer of eco-friendly cardboard caskets and coffins in Hong Kong, believes they are the way of the future. Tong has a vision of automation, precision, environmentalism and growing eco-coffin exports across Asia.
"We use board imported from Germany and special corrugated cardboard from the US, and we use Japanese technology to make it stronger," Tong says at the company's workshop in Aberdeen, on the south side of Hong Kong Island. "The advantage of those kinds of boards is they reduce the use of materials from trees. They save 80 per cent compared with chipboard or MDF [medium-density fibreboard, another wood product]."
According to LifeArt the special boards are made using wood fibres from "sustainable forestry operations, forestry or agricultural by-products, or recycled wood fibres", and when burned they emit 87 per cent less greenhouse gas than chipboard or MDF.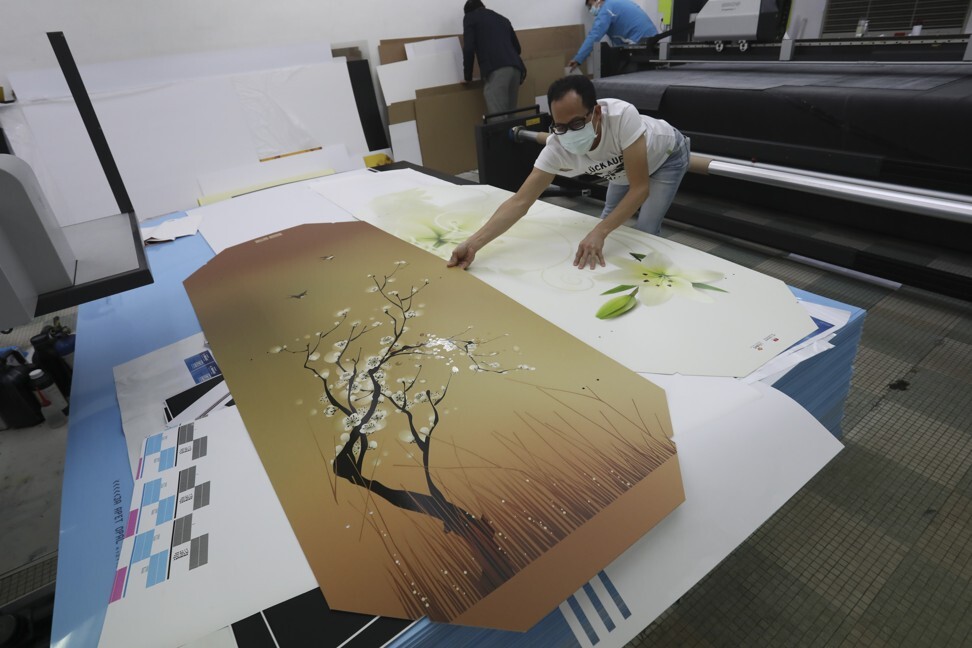 A LifeArt staff member works on a cardboard coffin. Photo: Jonathan Wong
As the world becomes increasingly concerned about air pollution and global warming, people have begun to consider the environmental cost of cremating traditional coffins, which often emit toxic fumes when burned. A US firm plans to begin offering "composting" funerals this year. Britain's Prince Philip was reportedly buried in a wool coffin. Wicker and bamboo coffins have become increasingly popular.
Tong looks over at the cardboard coffin being automatically drilled by the robot arm. "This product is for any organisations that care about the air, about global warming," he says.
Once finished, this Hong Kong-made cardboard eco-coffin might be plain or coloured; it might feature a design of flowers or Chinese calligraphy; it will be able to carry a body weighing up to 200kg, and it will be far more eco-friendly than a coffin made of wood or wood substitutes.
LifeArt's Aberdeen workshop, staffed by half a dozen employees and equipped with state-of-the-art machinery from Europe, opened in March 2020, just as the coronavirus pandemic tightened its grip on the world.
The border with China shut and Chinese coffin factories closed, setting off a panic about casket and coffin shortages in Hong Kong. But LifeArt couldn't be seen to capitalise on the disaster of Covid-19, Tong says, although in future its doors will be wide open to every customer demand. "The capacity of the workshop is huge," he says. And it's clean and quiet.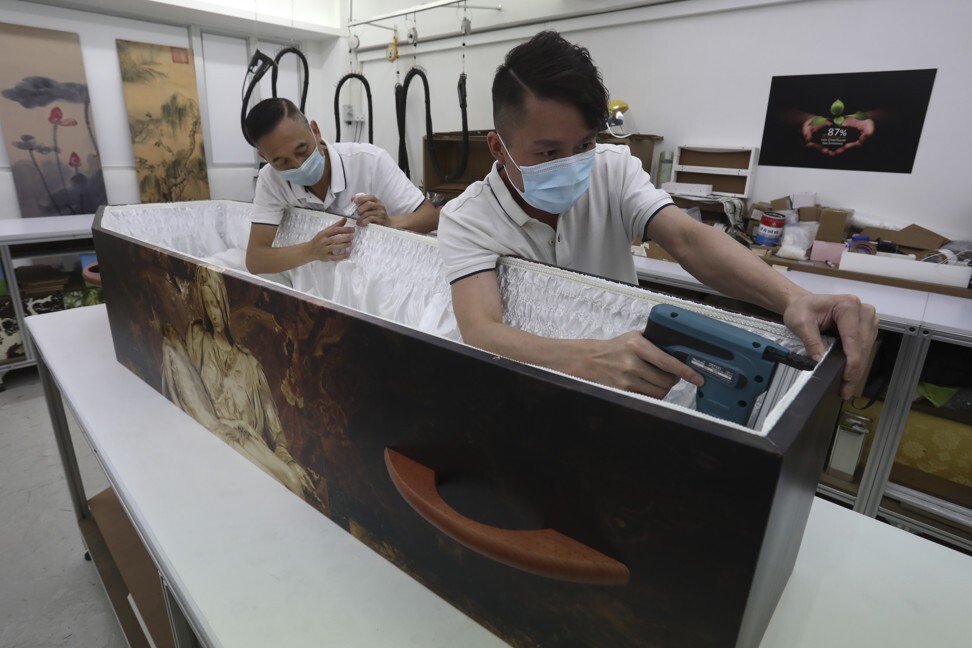 Workers at LifeArt assemble a cardboard coffin at its plant in Aberdeen, Hong Kong. Photo: Jonathan Wong
"In a traditional coffin workshop," Tong says, "workers would be wearing helmets and protective boots and masks, not just for Covid but to protect against sawdust and toxic fumes."
A reasonably priced, environmentally sensitive coffin made in Hong Kong might seem an easy solution for a small region with severe air pollution problems, where smog rolls in from China and borders can clang shut at times of disaster; yet tradition, doubts and the profit motive have so far stopped the use of eco-coffins becoming widespread.
Tong says the Hong Kong funeral industry is largely resistant to the environmentally conscious funeral trend sweeping the world, and LifeArt coffins and caskets are only sold to about five per cent of funeral establishments (it's a wholesale-only trade, none are sold to individuals).
In China, wooden coffins are banned, but although Hong Kong government regulations require eco-coffin options, traditional wooden or chipboard coffins – shipped from China – are also permitted, and Tong says they are more profitable for undertakers.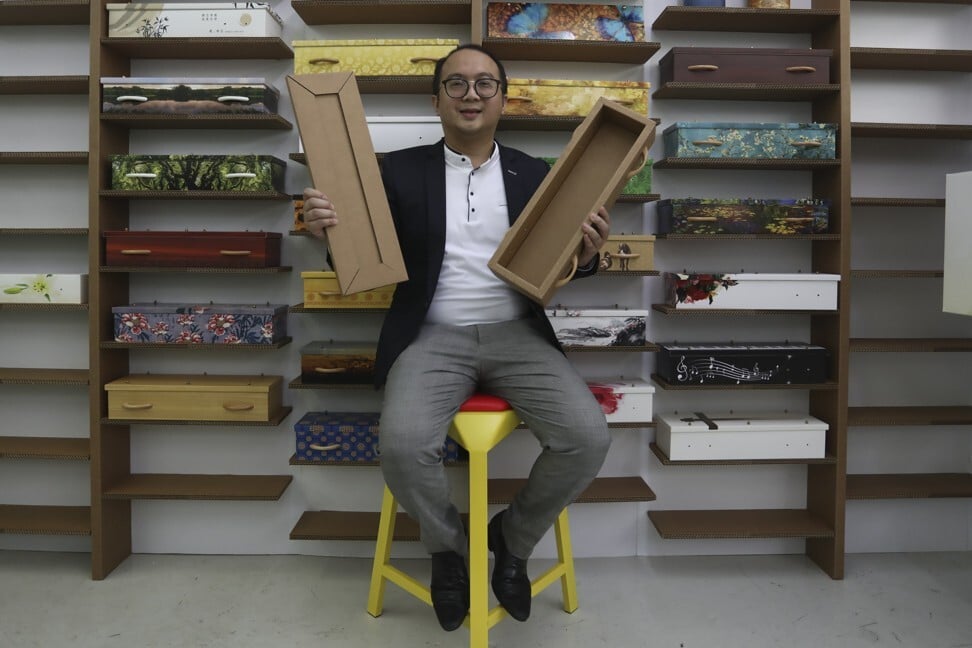 Tong says the Hong Kong funeral industry is largely resistant to the eco-friendly funeral trend. Photo: Jonathan Wong
It can be difficult to find a funeral director willing to discuss traditional coffin usage. The Hong Kong Funeral Home, with headquarters in North Point in the east of Hong Kong Island, was founded in the 1930s, its website says, and it has conducted more than "200,000 ceremonies, for all members of the community, including government officials and national icons". The firm's website lists no eco-friendly coffins, only "superior quality hardwood and metal caskets".
No one at the Hong Kong Funeral Home was available to discuss eco-coffins or green funerals, a representative explained in an email that read in part: "We are very busy at the moment. We are not able to make this interview." Other establishments had a similar response.
Grace Yeung is the executive director of Forget Thee Not, a non-profit organisation that aims to help Hongkongers with end-of-life decisions and operates as an environmentally sensitive undertaker. "Mainly we advocate a good end of life; so preparing for the end of life, as well as promoting and detailing the green funerals," she says.
We use ink made from corn, it's very green. For every procedure we would like to ensure we use the greenest materialsWilson Tong, chief representative of LifeArt
Yeung favours cardboard coffins – "paper" coffins as they are known in Hong Kong – and, before LifeArt was established in Hong Kong, Forget Thee Not imported them from LifeArt's parent company in Australia.
"It's upcycling paper, so you don't need to cut the tree or kill the tree, or get something new and then just burn it," she says. "We have this organisation because the coffins in Hong Kong are the most profitable things if you organise the funeral. So there's no intention for undertakers to promote the paper coffin. They don't like it because it doesn't make money."
Yeung says both wooden coffins and eco-coffins come in a range of prices, and the least expensive wooden coffin retails for about the same price as a cardboard coffin. Tong says LifeArt's coffin prices and sales volume are commercially confidential.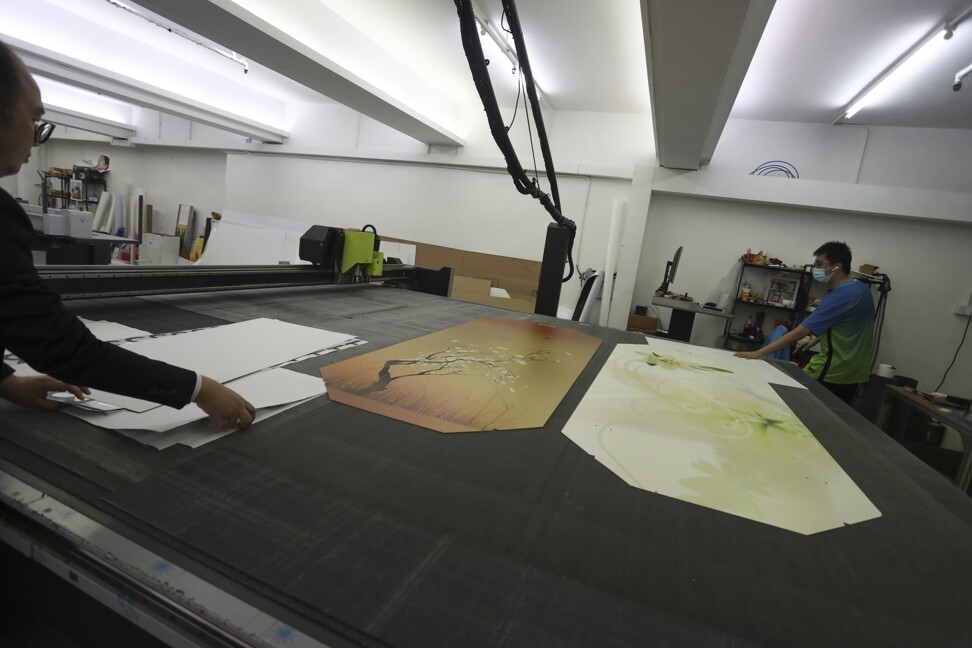 The shaping and sanitisation procedure used for the cardboard coffins at LifeArt. Photo: Jonathan Wong
Hong Kong residents might be reluctant to choose a cardboard coffin because of the idea that it seems less expensive and shows less respect, although a cardboard coffin can be almost indistinguishable from the wooden variety, Yeung says. "The problem is people will see that it's paper," she adds. "Paper, they would just see it as cheap, cheaper than wood, that's why they don't really like to use it."
Yet the coffins and caskets on view at LifeArt's Aberdeen workshop look anything but cheap. An array of carefully constructed and painted coffins is stacked on shelves for display, looking glossy and decorative.
One looks remarkably like wood, another is painted with a design of blossoms on a branch, another has a design of Chinese medallions and a number have floral designs. Wooden-looking handles are affixed, and in some cases, drapery decorates the edges of the coffin. One elegant design is used only for the return of bodies donated to the Chinese University of Hong Kong Medical School's Silent Teachers programme for medical education and training.
A cardboard coffin is put together by LifeArt workers. Photo: Jonathan Wong
The coffins and caskets come in a range of sizes – medium, large and extra-large for adults, and small ones. Tong says that although it only takes about 40 minutes to make one standard coffin, and a little extra time to affix the handles and drapery, each requires 50-70 rounds of printing and cutting.
"We use ink made from corn, it's very green," he says. "For every procedure, we would like to ensure we use the greenest materials."
Hong Kong's Food and Environmental Hygiene Department (FEHD) publishes "A Guide to After-Death Arrangements" that lists options for families, including environmentally conscious choices such as cardboard coffins.
More than 45,000 Hongkongers die every year, and more than nine in 10 will be cremated, keeping the region's six government crematoria busy.
"Since 2007, the FEHD has introduced the use of eco-coffins for cremating unclaimed bodies," a departmental spokesman said. "The FEHD has also appealed to the funeral trade to support and assist in the promotion of eco-coffins."
According to the FEHD, coffins cannot be larger than a stipulated size, metal and plastic ornaments have to be removed before cremation, and crematoria emissions are monitored every day "to control the quality and volume of emissions". Yet Tong says the FEHD has no clear definition of a green coffin or casket – what it should be made of and how it should be manufactured.
"By law, they have to have a green option available, but there are many using chipboard," he says.
LifeArt markets more than 50 cardboard coffin and casket designs in Hong Kong, Macau, 13 cities in China, and Kuala Lumpur, Malaysia (caskets are a simple rectangular shape, whereas coffins have six sides), providing many people in East Asia with the choice of a greener funeral.
"We believe funeral services should give people enough options," Tong says. "It's the last journey."
This article appeared in the South China Morning Post print edition as: Going green onthe final journey