Cancer patient the first to die under Victoria's euthanasia law.
Daughters say death of Kerry Robertson, 61, was a 'beautiful, positive experience'
Michael McGowan and agencies
@mmcgowan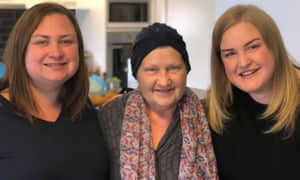 A Victorian woman has become the first person to end her life under the state's new voluntary assisted dying laws.
Kerry Robertson, 61, died at a nursing home in Bendigo on 15 July after almost a decade of living with cancer.
Her daughters, Jacqui Hicks and Nicole Robertson, told the advocacy group Go Gentle Australia her death had been "beautiful and peaceful".
"It was a beautiful, positive experience," the two women said. "It was the empowered death that she wanted."
Robertson was the first person to be granted a permit to end her life under the law, having visited her specialist the day legislation came into effect on 19 June.
Robertson was diagnosed with breast cancer in 2010. Despite treatment, the cancer metastasised to her bones, lungs and brain. In March it spread to her liver and, as the side-effects of chemotherapy were no longer manageable, she decided to stop all treatment.
"Mum has always been been brave – a real 'feel the fear then do it anyway' mentality to life – it's the legacy she leaves with us," Nicole Robertson said. "That was the greatest part, knowing we did everything we could to make her happy in life and comfortable in death."
The assisted dying process had taken 26 days to complete and went smoothly, the daughters said.
Hicks said her mother had been "ready to go": "Her body was failing her and she was in incredible pain. She'd been in pain for a long time.
"Palliative care did their job as well as they could. But it had been a long battle. She was tired, the pain was intolerable and there was no quality of life left for her.
"We were there with her; her favourite music was playing in the background and she was surrounded by love. She left this world with courage and grace, knowing how much she is loved."
The sisters said their mother's death had reinforced their belief that anyone who was terminally ill and in intolerable pain deserved the choice of a voluntary assisted death. "It is the most compassionate, dignified and logical option for those suffering in the end stages of life," Nicole said.
The Victorian health minister, Jenny Mikakos, said the first use of the state's Voluntary Assisted Dying Act was "an historic moment".
"The Victorian parliament legalised voluntary assisted dying so that Victorians with an insufferable, terminal and incurable illness can have a genuine and compassionate choice at the end of their lives," she said. "Today we honour her memory and her bravery and we offer our sincere condolences to those who loved her."
The Voluntary Assisted Dying Act passed parliament in 2017 after a conscience vote supported by the premier, Daniel Andrews, and the majority of his cabinet.
Patients are required to meet strict criteria to be eligible, including having a terminal illness with no more than six months left to live, or 12 months if the patient has a degenerative neurological condition.
To be approved, patients must have two doctors sign off on their application and make three requests.
Andrew Denton, the director of Go Gentle Australia, said Robertson's story demonstrated how well the law had been designed. "The eligibility criteria were met, the safeguards were worked through and Kerry Robertson and her family were offered the compassionate death Kerry wanted," he said.
"Importantly, too, access to the process was not an issue, even though the family was from regional Victoria. It is a testament to the dedication and compassion of everyone involved."
The government expects up to 150 people a year will use the scheme. Similar laws are being considered in Western Australia and Queensland.
Australia's media... … has never been more concentrated, at a time when clear, factual reporting is so desperately needed. Guardian Australia will hold the new Coalition government to account and continue to report on the escalating climate emergency. We are editorially independent, free from commercial and political bias – this means we can promise to keep delivering quality journalism without favour or interference.
More people are reading and supporting our independent, investigative reporting than ever before. And unlike many news organisations, we have chosen an approach that allows us to keep our journalism accessible to all, regardless of where they live or what they can afford.
The Guardian is editorially independent, meaning we set our own agenda. Our journalism is free from commercial bias and not influenced by billionaire owners, politicians or shareholders. No one edits our editor. No one steers our opinion. This is important as it enables us to give a voice to those less heard, challenge the powerful and hold them to account. It's what makes us different to so many others in the media, at a time when factual, honest reporting is critical.
Every contribution we receive from readers like you, big or small, goes directly into funding our journalism. This support enables us to keep working as we do – but we must maintain and build on it for every year to come. Support The Guardian from as little as £1 – and it only takes a minute. Thank you.