Soul searcher: A boy uses a traditional contraption made of bamboo that is believed to allow loved ones of the deceased to see the latter's soul. The picture was taken during the Hindu funeral of Ida Pedande Putu Peling Umur, 93, in Ubud, Bali, on March 19. (JP/Amahl S. Azwar)
AMAHL S. AZWAR - THE JAKARTA POST
Hindus in Bali believe that the ngaben ceremony is essential to liberate the soul of the deceased to allow it to enter their Sanggah Pemerajan (household temple). The soul would then wait to be either reborn or become one with Sang Hyang Widhi Wasa (God Almighty).
The elaborate funeral ritual is usually costly. Some spend Rp 100 million (US$6,950) on it. Others would bury the body of the deceased and wait to perform the ceremony collectively with other families, which usually happens every five years. The latter option is more affordable at an estimated cost of around Rp 5 million ($350) for each family.
The COVID-19 pandemic has hit tourism-reliant Bali hard. Many Balinese have lost their means of living – and thus their budget for ceremonies such as ngaben.
The ritual also cannot be performed for those who died of COVID-19.
A 47-year-old Balinese man in Bangli, a regency seated 39 kilometers north of Denpasar, died after contracting COVID-19 last month. Instead of the ngaben, the body was cremated at a hospital.
"Personally, I'm not satisfied," said the man's sister, Desak, 50, who declined to disclose the identity of the deceased and asked to be referred to by her first name only.
Desak could not see her brother for 15 days while the latter was in quarantine after contracting COVID-19. After his passing, the family could not bring her brother's body home to be bathed and laid to rest before cremation day.
Desak reiterated that the family had to comply with regulations. However, deep down, she was concerned about her brother's soul's path to the afterlife since many details of ngaben could not be performed.
"Who wouldn't feel like that? I'm his closest sibling," she said.
Even Balinese who performed ngaben for their loved ones before the pandemic felt uneasy when asked how they would feel if they were in Desak's shoes.
Pande Putu Mahagiri, 36, who works as a cultural liaison at Usada Bali center in Ubud, was very close to her grandmother, who died four years ago. She recalls that, during the ngaben ceremony, she almost broke down, and her family told her to compose herself.
"Even then, it was already hard for me. I simply cannot imagine [how I would feel] if my grandmother had died [of COVID-19] during the pandemic and I couldn't be there for her. I would've been heartbroken," said Putu.
The priest's wife
Ida Pedande Putu Peling Umur drew her last breath on Feb. 10 this year at the age of 93 in Ubud, which is around 20 kilometers from Bangli regency in Bali. Surrounded by her loved ones, the priest's wife died peacefully of old age.
The family then waited for 15 days until purnama (full moon) and an additional 15 days until tilem (dark moon). They then selected an auspicious day to perform the cremation ceremony, called pelebon. Pelebon is the name of the funeral ritual for priests and their families. During the 30 days, her body was laid to rest in the temple and necessary ceremonies were performed for her soul.
Ida Pedande Putu Peling Umur was loved and respected by the community, who called her Ratu Betari Nabe. Ratu (queen) is used to refer to a Hindu priest's wife. Her grandson Ida Bagus Dharmayudha, 45, nicknamed 'Gus De', acknowledged that her manner of death, which was unrelated to COVID-19, allowed them to perform the pelebon.
"Had she [got COVID-19], we wouldn't have got permission [to perform the pelebon]," he said, adding that, while many details had to be compromised and simplified, the essence of the rituals was fulfilled.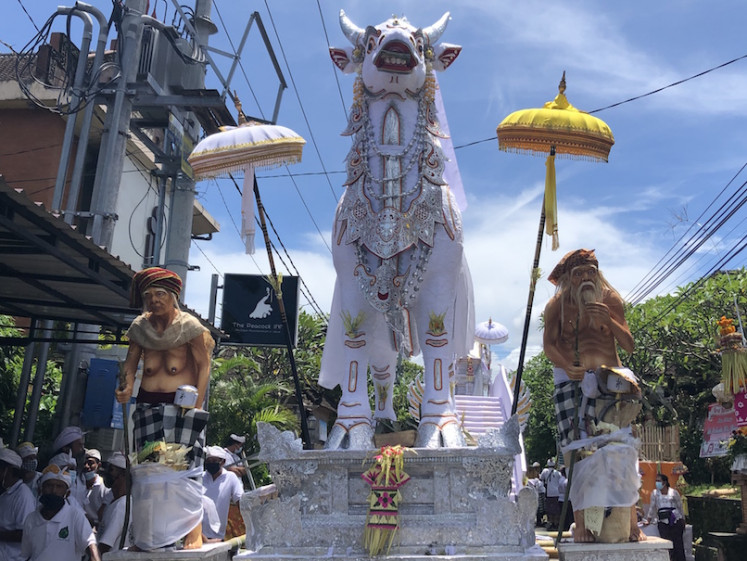 Bidding farewell: Ida Bagus Dharmayudha, 45, bids his last farewell to his grandmother, Ida Pedande Putu Peling Umur, who died at 93 years of age on Feb. 10. The cremation took place in the parking lot of the Monkey Forest sanctuary in Ubud, Bali, on March 20. (JP/Courtesy of Scott Bauer/Usada Bali)

When they collectively prayed for the deceased in the temple, only a third of the venue's capacity were allowed inside. Practically everyone wore masks – even with the pungent scent from the incense sticks. Washing hands before entering the temple was mandatory, and Gus De's family also arranged for disinfectant to be sprayed regularly.
On the cremation day, March 21, around 500 people showed up to pay their respects. When they brought the body of the deceased to the Monkey Forest sanctuary in Ubud to be cremated in a white lembu (bull-shaped coffin), virtually everyone followed safety protocols. Police officers were also around to supervise.
"When my grandfather died in 2017, before Corona, at least 2,000 people showed up," said Gus De.
"She [my grandmother] belonged to the people. Many apologized because they could not come. So many feelings are involved, but we have to accept the situation. We have to follow the government's regulations," he added.
The cost of the cremation ceremony was not an issue – as many people donated for the ceremony.
"She dedicated her life to the community, so the community felt obligated to pay respects to her on her journey to the afterlife," he said.
Acceptance
Marina Kolaric, 41, a therapist and mindfulness coach who lives in Ubud, observed the importance of cultural and religious ceremonies for the Balinese people's mental health, especially in the time of the pandemic. The Serbian witnessed these ceremonies in her village being conducted by the locals while wearing masks and being cautious.
"I believe that through these ceremonies, as well as staying close with their communities, Balinese stay healthy – both physically, and most importantly, mentally and emotionally," she said.
When asked about his thoughts on performing ngaben and pelebon with so many compromised details during the pandemic, Gus De said the current situation could serve as a 'lesson' for many Balinese.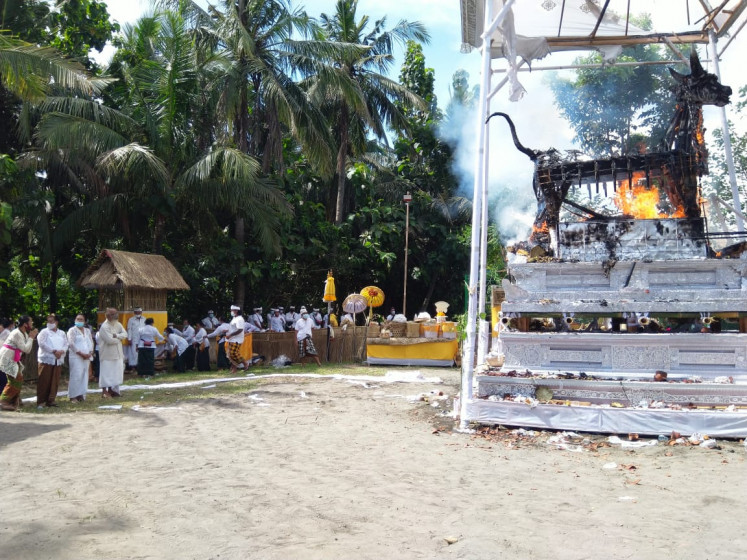 The priest's wife: The Hindu funeral ritual for a priest's wife, Ida Pedande Putu Peling Umur, who died at 93 years of age, takes place in the parking lot of the Monkey Forest sanctuary in Ubud, Bali, on March 20. Virtually everyone is wearing a mask to comply with COVID-19 safety protocol. (JP/Courtesy of Scott Bauer/Usada Bali)

He recalled that in the past, many Balinese would perform lavish cremation ceremonies – even though they were not financially secure. Gus De reiterated that the ceremony should not become a burden on families' financial future.
In addition, Gus De said that, in the past, many Balinese would use the opportunity of the cremation ceremony to gamble on the side. The current economy had made it harder to even pay their bills, let alone waste money on gambling, Gus De said.
"Friends can now talk about quality stuff with each other – not about gambling," said Gus De, smiling.
Gus De acknowledged the sadness of some Balinese who, like Desak, could not perform the ngaben properly due to the pandemic. He reminded people that a simple cremation at the hospital would still be observed by a Hindu priest and, in essence, it would still smoothen the soul of the deceased's afterlife journey. The roads might be different, but the destination would still be the same, he added.
"Performing a lavish celebration will not guarantee the soul to be at peace. In the end, it is the good deeds of the person while they were still alive that matter," said Gus De.
Desak also refused to dwell in the past, adding that her brother's soul was "at peace" and she hoped that he would be accepted by God Almighty at His side.
"We also received a lot of help from the hospital considering the situation. [The cremation cost was] supposed to be Rp 12 million [$840], but we only had to pay Rp 5 million [$350]," she said.

Balinese Hindu performs 'humble' funeral rituals amid COVID-19
https://www.dailyadvent.com/news/a9c3cc9f8ffda600c542dd0cd6eff83e-Balinese-Hindu-performs-humble-fun...