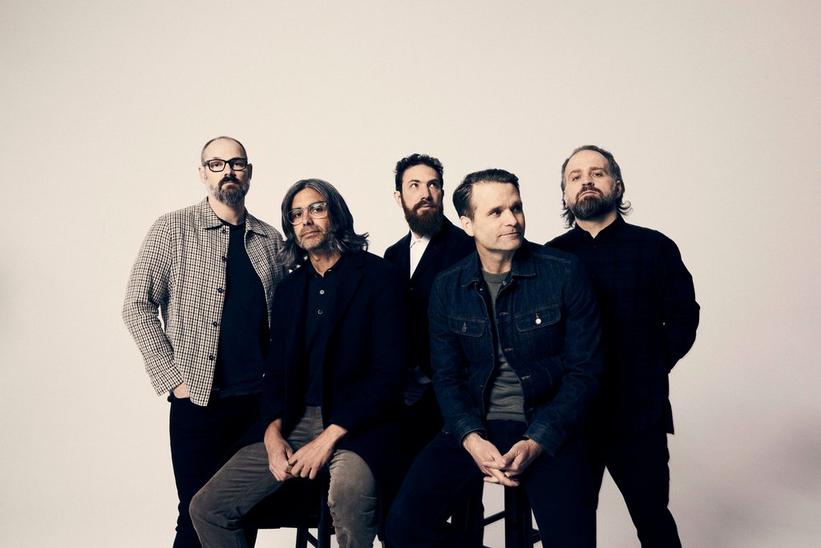 Death Cab for Cutie. PHOTO: JIMMY FONTAINE -
Across 25 years, Death Cab for Cutie have weathered insecurities, shifting dynamics and seismic changes, including the loss of a key member. How did they get to the freewheeling psychological state that produced the jagged, fearless 'Asphalt Meadows'?
MORGAN ENOS
Chris Walla was such an integral part of Death Cab for Cutie that two members had to replace him.
When guitarist Dave Depper and keyboardist Zac Rae joined the indie-rock institution for their first Walla-less album, 2018's Thank You For Today, there was a degree of insecurity and tentativeness. Much of it was from Depper, as he was to fill the vacated role of second guitarist alongside singer, songwriter and bandleader Ben Gibbard, who'd played alongside Walla since the band's formation in 1997 in Bellingham, Washington.
"When I initially got approached about it, I didn't hesitate to say yes, but I had several months of being very nervous about preparing to do it," Depper told Tidal Magazine back in 2019. Luckily, there was a long on-ramp; he and Rae spent something like a year and a half touring on Kintsugi, Death Cab's final album with Walla.
But even given that lead-up time, making Thank You For Today with two new members meant a complete recalibration of the band dynamic. "All of a sudden, we had to figure out how this new lineup worked in the studio," Depper added. "What communication was like, what rules there were and weren't when it came to commenting on arrangements or songwriting, or suggesting parts."
The reconstituted Death Cab for Cutie brought Thank You For Today to the finish line, to largely positive critical reception. This was despite, in Depper's words, "a lot of being very polite, being very respectful and maybe not being as bold as any of us wanted to be."
In 2019, a psychological weight was lifted by way of the livewire Blue EP, where the pressure was largely off: all five members felt emboldened to bat around ideas, come what may. And Asphalt Meadows, their new album, which dropped Sept. 16, represents the culmination of this tremendous shift.
While Thank You For Today was made meticulously, almost surgically, straddling a fresh sound with classically Death Cab signifiers, Asphalt Meadows tracks like "Rand McNally," "Here to Forever" and "Fragments from the Decade" are the product of freshly-minted, holistic cooperation — even with Gibbard ultimately, and naturally, driving the ship.
Even more thrillingly, it features an audacity and willingness to swerve into left field — perhaps more than on any Death Cab album since 2008's potent, morose Narrow Stairs.
"I think The Blue EP was a really encouraging sign that people were just going to follow us down any weird path we were willing to go on," Depper — hours before seeing one of his favorite bands, avant-pop tinkerers Stereolab — tells GRAMMY.com. "We had nothing to prove. We just wanted to make a record that was interesting to ourselves, and we felt confident going into it. We just wanted to shake things up a bit."
Drummer Jason McGerr, who's been with Death Cab for Cutie since their watershed 2003 album Transatlanticism, says his experience recording Asphalt Meadows was diametrically opposed to that of its predecessor LP.
"The Thank You For Today sessions were a lot more microscopic," he tells GRAMMY.com from a parallel Zoom window. "People could probably find stories about me being somewhat isolated from the rest of the band, in a small room, not really being able to make eye contact. It was a much more surgical process."
In contrast, the band went into the Asphalt Meadows sessions with a plug-in-and-play, devil-may-care attitude that sharing stages for so many combined hours brings. "It was right off the heels of a tour, and we were all used to playing together a lot," McGerr says. "You know, a no-headphones kind of vibe."
To further explain the newfound, live-in-the-room energy, Depper evokes the elephant in the room. "I think everyone wanted to get louder and rock out a bit on this record after two years of sitting at home and not being able to make much noise," he says.
And to translate this restlessness and eagerness into an offering that would challenge the listener while remaining recognizably Death Cab, the band had a totally sympathetic producer on their team: John Congleton, a GRAMMY winner who's made individualistic, outside-the-box records with Angel Olsen, St. Vincent, and Xiu Xiu, and many other indie-adjacent mavericks.
"Congleton is a bit of an agent provocateur," Depper says. "He has no interest in people repeating what they've done before; he has no interest in making the listener comfortable."
This MO is interesting, given that a substantial portion of Death Cab's popularity is predicated on nostalgic comfort — how many listeners associate them with college nostalgia, or "The O.C."? But to hear Depper and McGerr tell it, Congleton's approach wasn't simply to drag them into the avant-garde wilderness, but present a path to extremity and see what they'd push back against.
"Some of the things he wanted us to do, we didn't go all the way," Depper says. "[But] where we got to was far more out there than where we would have gone on our own."
Much like the band themselves, Congleton opted to lead with emotion, vaunting takes that struck a psychological chord over endless debates over pedals or compressors. "Sometimes, he'd be like, 'Cool, try it,'" McGerr remembers, referring to experimentation with gear. "Other times, he'd be like, 'Let's not worry about the details. Did you guys crush it, or not? Is that the take, or not?"
That immediacy was par for the course with the writing and demoing process — which far less resembled Gibbard showing completed songs to accompanists than a strict, R.E.M.-style democracy. While some songs hewed closely to their embryonic demo versions with slight tweaks, most of them went through something of an assembly line.
"Five days a week, we each had full editorial control over a piece of music," McGerr says. "On a Monday, somebody would start a seed of music — maybe it was just a drum part, or a guitar part, or I play keyboards."
From there, another member would change the tempo, or cut out beats, or alter the time signature. Eventually, the material bore all five men's fingerprints, ones they applied as per their own whims, interests and wild hairs.
"[It's] that process of letting go, trusting your bandmates, and being able to fully realize your ideas," McGerr says. "How many times have you found yourself in a situation where you know what you want to do, but the influence of people around you doesn't really allow you to fully realize those ideas?"
All these intertwined aspects of the making of Asphalt Meadows made for a record with plenty of jagged edges and surprises — like the instrumental detonation in opener "I Don't Know How I Survive," the violently boiling-over pop of "Roman Candles" and the evocative spoken-word sections in "Foxglove Through the Clearcut."
But after 25 years, the beating heart of Death Cab remains Gibbard's probing lyricism and the emotional clarity of his delivery — wedded to melodies worthy of McCartney at his finest.
"I appreciate how he is both humble and deeply interested in life and relationships," McGerr says, from the perspective of being friends and bandmates with Gibbard for decades. "People that he's known his whole life, he continues to stay in touch with them."
"For some people, a relationship will begin and end, and that's it," he continues. "But Ben is somebody that's forged deep relationships that he continues to maintain, and those people's lives and their stories fold into his writing."
On that topic, Depper praises Gibbard's borderline frightening work ethic: "He takes songwriting so seriously these days. He writes and discards so many songs for each record," he says. "He'll spend so much time on a song, and if it's not working, he has almost no ego about letting it go. He really trusts us to help him identify which songs are standing out, and nobody is harder on Ben than Ben is."
"He's interested in hearing what [people in his life] have to say, just like he's interested in following and keeping up with music," McGerr continues. And appropriately for a band who just helped make one of the most eclectic albums in their 25-year history, Death Cab's music tastes are all over the place.
Lately, Gibbard's checking out jazz and avant-garde music of all stripes; McGerr has been jamming Makaya McCraven, Kendrick Lamar, Marcus Mumford and LongGone — the 2022 collaborative album between saxophonist Joshua Redman, pianist Brad Mehldau, bassist Christian McBride and drummer Brian Blade. For his part, Depper is communing with the new Beths and Bitchin' Bajas — and, of course, his beloved Stereolab.
In all regards, Death Cab's members feel free to roam around — unbound and unburdened by fan expectations, or looming notions of what their now-veteran band is or isn't. "We thought it was going to come out a year ago," McGerr says, citing endless pushbacks. "And there were times when we were like, 'Is this ever going to happen?'"
"But now there are some reviews, and we're starting to play the songs live and see the reaction of people," he continues, seeming palpably relieved. "All the clouds that have been hanging over me over the past year are clearing away."
The band now stands at an enviable position; they survived the mid-2000s indie asteroid, weathered the exit of a key member, and now have free reign to hurtle in any direction they desire.
To paraphrase the opening song, Death Cab for Cutie may not know how they survived. But there are so many reasons they've thrived.
Bartees Strange Talks New Album Farm To Table, Reports From Inside The Indie Apparatus: "Your Music Still Has To Be Good"