The Two Ways To Get Involved with the ACSJL HT94 Installation
1. Fill Out Toe Tags

The most powerful element of this project is the participatory aspect with the installation partner's community and network. This project involves the time and intention required of volunteers to meticulously fill out the 3,200 individual toe tags that represent each person who has died. After all are complete, each tag filled out by our volunteers will be applied to the map as the central part of the installation. We ask for your help in filling out the tags, and to play an active part in raising awareness around this issue.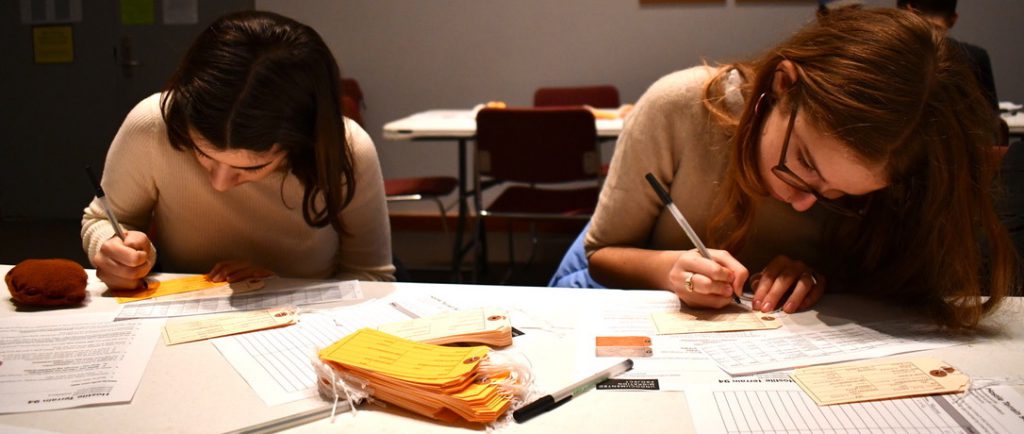 Use button below to participate by yourself or with a group at home during COVID-19.
SIGN UP TO FILL OUT TAGS AT HOME
2. Share Your Story With Us
Artist Nayda Collazo-Llorens is designing a text based installation to complement the HT94 map of toe tags for our large art wall in the building. We would like to offer you the opportunity to share experiences of crossing the border. It may be your own crossing or that of a loved one. Our goal is to take words and phrases from your stories and include them in an art installation complementing the Hostile Terrain 94 installation at the ACSJL. This will be an abstracted version of the stories that memorializes those who have died while crossing the desert and lifts up the lives of all that have been impacted by this perilous journey. All stories will remain anonymous and you have the option of sharing a written story or uploading a video or audio format of your story.
Use the button below to share your story with us.
SHARE YOUR STORY WITH US
Learn More about HT94 and Undocumented Migration Project
The Undocumented Migration Project (UMP) is a long-term anthropological study of clandestine movement between Latin America and the United States that uses ethnography, archaeology, visual anthropology, and forensic science to understand this violent social process and raise awareness through research, education, and public outreach.
Watch more UMP videos
Visit UMP's Website