from now through january 3, 2021, the mori art museum in tokyo presents six artists whose careers propelled them beyond the confines of japan, earning them international acclaim across generations. STARS: six contemporary artists from japan to the world traces the journey of yayoi kusama, lee ufan, tatsuo miyajima, takashi murakami, yoshitomo nara, and hiroshi sugimoto from their earliest to most recent works, exploring how their practices have been evaluated in the global context. STARS touches upon the artists' pursuit of universal issues exceeding nationality and culture, traditions and aesthetics, technology and subculture — all while keeping in mind the social, cultural and economic background unique to japan.
designboom is in tokyo and has visited the exhibition, and highlights the show across two, in-depth articles. see part I here — where we document contributions by yayoi kusama, takashi murakami, and hiroshi sugimoto — and read on for part II, which looks at the exhibits of tatsuo miyajima, yoshitomo nara, and lee ufan.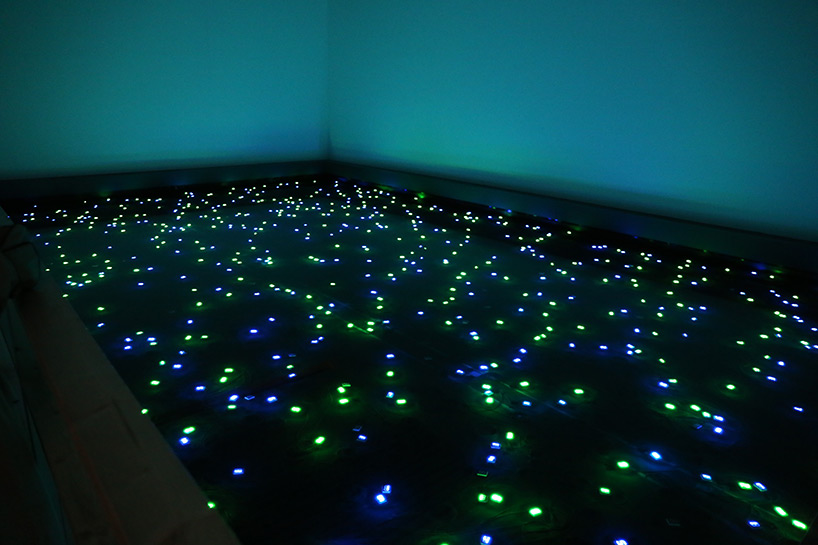 exhibition view of tatsuo miyajima at STARS | image © designboom
the decades of postwar economic growth in japan were punctuated by a series of national events — such as the olympics and world expo — as the country began to turn its gaze outward once more. in the art world, the period was characterized by debates on decolonization and multiculturalism, and the proliferation of new contemporary art settings, such as biennials and art fairs. fast-forward to 2020 — the is world thrown into turmoil by the COVID-19 pandemic and the vulnerability of our social and economic structures is increasingly highlighted. at this moment in history — as well as raising some fundamental questions about the essential role of art and how we define artistic success — the exhibition at mori art museum seeks to offer powerful messages suffused with inspiration for future.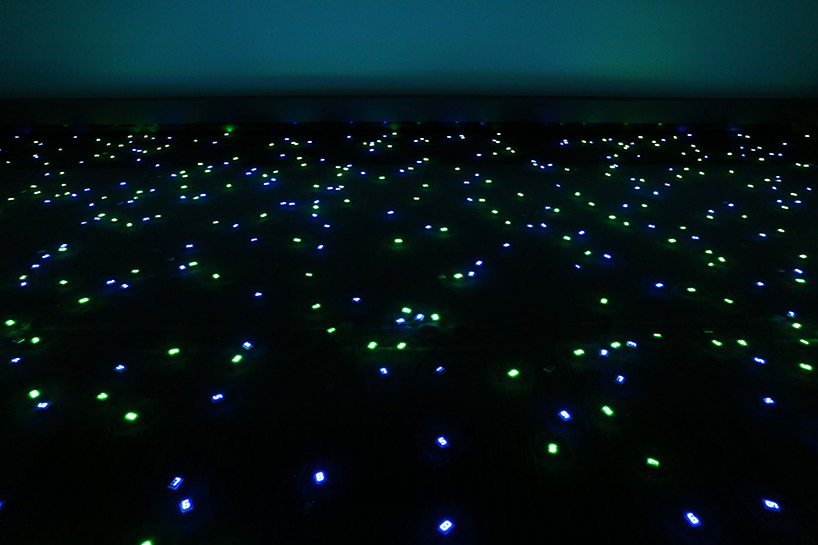 exhibition view of tatsuo miyajima at STARS | image © designboom
since the mid-1980s, tatsuo miyajima has created a body of installations and sculptures using digital LED counters with numbers changing from 1 to 9. these studies explore the concepts that the artist describes in terms of, 'it keeps changing', 'it connects with everything', and 'it continues forever'. LEDs deliberately go dark without ever displaying the number 0 — a choice intended to signify death, and how life and death are constantly repeating. the exhibition at mori art museum features a new work bringing together all the digital counters made until now for 'sea of time – tohoku,' alongside documentary footage of members of the public setting the counter speeds. the other exhibits are 'clock for 300 thousand years' from 1987, which theoretically will count the time for over three thousand centuries, and 'monism/dualism' from 1989, both dating from around the time of miyajima's international debut.
exhibition view of tatsuo miyajima at STARS | image © designboom
dealing with universal notions of time, miyajima's work is acclaimed for fusing elements of buddhist thought and technology. he has also created projects about the tragic bombings of hiroshima and nagasaki, and, since 2017, devoted himself to socially engaged participatory art projects such as 'sea of time – tohoku', which aims eventually to install permanently 3,000 LED counters in the tohoku region of northeast japan with the hope of serving as a requiem for the victims of the great east japan earthquake and passing on their memories. back in 1988, miyajima exhibited the original 'sea of time' at the 43rd venice biennale. he subsequently created 'sea of time' in1998 for the art house project on the island of naoshima, kagawa prefecture. 'sea of time – tohoku' is a further development of this series of works.
exhibition view of tatsuo miyajima at STARS | image © designboom
another room of the exhibition features the work of yoshitomo nara, who has engaged in a range of media since the 1980s, including drawing, painting, sculpture, photography, and installation. nara is also known for his extensive knowledge and love of music, his collaborations with various other kinds of artists, and his style that transcends pop culture and contemporary art.children and animals are frequently rendered in simplistic, abstract, and misshapen forms, and seemingly conflicting dispositions, such as innocence and cruelty, intend to inspire the imagination of the viewer. in recent years, nara has produced numerous portraits with a serene, spiritual aura — protagonists that express the weak, honest, and thus powerless in society — expressions of a pure heart that continues to survive in a corner of the adult mind.
exhibition view of tatsuo miyajima at STARS | image © designboom
the exhibit offers a comprehensive experience of nara's creative world, surveying the changes in his practice from the 1980s to present day. in addition to some twenty early works — including fifteen displayed publicly for the first time — there is voyage of the moon (resting moon) / voyage of the moon from 2006, a representative installation from the middle period of his career, when he engaged in collaborations and many other activities; large portrait paintings such as the new piece, miss moonlight, and items from nara's own varied collection.
exhibition view of tatsuo miyajima at STARS | image © designboom
finally, also featured at the exhibition is one of the earliest works by of korean artist lee ufan, relatum, which epitomizes his 'mono-ha' outlook — a movement of exploring materials and their properties in response to development and industrialization in japan. since the 1970s, 'relatum' has been a word that ufan has continued to adopt in the titles of his work, and expresses the notion that things are formed through their relationships with the world around them. this philosophy is reflected not only in his artworks, but also appears repeatedly in his writings. ufan functions as an energy or medium in given spaces or situations, searching for moments of tension and equilibrium within a space and time.
exhibition view of yoshitomo nara at STARS | image © designboom
after moving to japan in 1956, ufan started working fully as an artist and critic in around 1968. one of the works on display, 'relatum' (1969/2020), is the work most representative of the then-contemporary 'mono-ha' movement, for which he would subsequently become a central figure. its approach, whereby an artwork, regardless of sculpture or painting, comes about through the interdependency and encounter between the work's subjects and the void and space around them, can also be seen running through the exhibits 'relatum – dissonance' (2004/2020) and the two new paintings from the 'dialogue' series produced in 2019 and 2020.
exhibition view of yoshitomo nara at STARS | image © designboom
see part I of designboom's coverage of STARS: six contemporary artists from japan, spotlighting the exhibited work of yayoi kusama, takashi murakami, and hiroshi sugimoto.
exhibition view of yoshitomo nara at STARS | image © designboom