"We are still very motivated, and I know there are at least a few more albums left in us" Photo: Bryan Meade
By Harry Guerin
Wicklow's God Is An Astronaut have just released their 10th album, Ghost Tapes #10 - guaranteed to feature on the end-of-year lists. Guitarist Torsten Kinsella tells Harry Guerin about the past, present and future.
Harry Guerin: Congratulations on reaching the landmark of 10 studio albums. How do you feel as you look back?
Torsten Kinsella. Thank you. We are proud of what we have achieved - staying relevant in the music industry is not an easy feat. When we began in 2002, we had no idea we would be putting albums out 19 years later. We are excited for Ghost Tapes #10 to be heard; we have reimagined our sound but still kept it true to our identity. I feel it is our most live, intense album to date.
Why Ghost Tapes #10 as a title and where did it come in the process?
The name comes from the US propaganda campaign Operation Wandering Soul, where US forces used eerie sounds and altered voices that pretended to be killed Viet Cong with the intended purpose of instilling a sense of turmoil and fear. The tape was dubbed #10 and was broadcast from loudspeakers outside US bases and helicopters. This being our 10th album, it suited the mood - tension - that the music conveys.
When in the pandemic chronology was the album made?
The songs were composed between late 2018-2019/early 2020 and a rough demo was made in March 2020. We then rehearsed the album for two months prior to recording it in May. When the pandemic began, we did experience a certain degree of cabin fever, which I think added to the tension in the songwriting and the performances. With all the time off, we reshaped our sound. We finally had the chance to go back and experiment with amps and pedals. We were very pleased with the sound and sold the digital amp modellers. We wanted to keep the focus on the live instrumentation and slightly less on the electronic textures. It was all recorded in one week with no overdubs.
As a band, you still sound as fresh as when I first heard All Is Violent, All Is Bright all those years ago. What do you think has been 'the secret' on record and in your relationships?
What really inspires us is the challenges we face in life. For us, writing and playing music is a cathartic experience - it's our way of expressing ourselves. Niels [bass] and I have also had a good working relationship: being twins, we have a similar vision. Lloyd [Hanney] has been a huge part of the team and has never been more focused than on this album. He played a major role in creating many interesting drum patterns with interesting, intricate timing signatures. The last missing piece of the puzzle was always Jamie Dean [keyboards], who went on hiatus for a few years. Late in 2019, Jamie reached out to us. With all our touring commitments completed, we had the time and the opportunity to just hang out and jam again. There is a hidden chemistry between each of us. Jamie brings a lot of enthusiasm and vitality to the new album.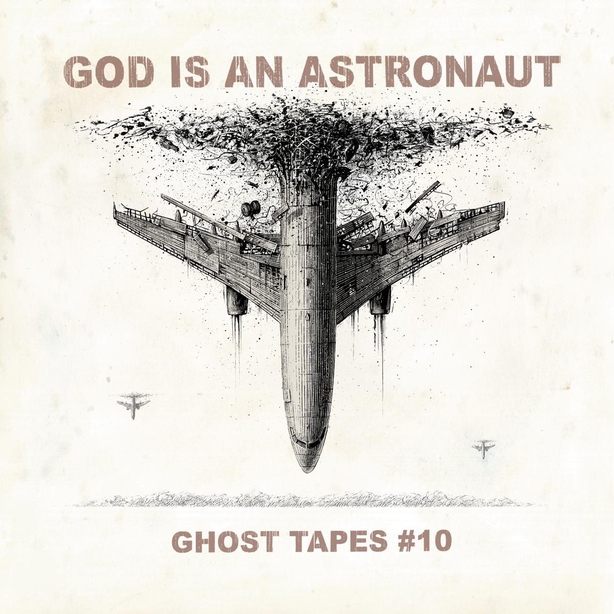 If asked for a line on each of the preceding nine albums, what would you say about them?
Album No 1 - The End of the Beginning
We began God Is An Astronaut in 2002. The End of the Beginning was more or less our farewell to the music industry after nearly 10 years of trying to make an impression. We wanted to create an album we genuinely believed in, rather than trying to make music we felt a label might be interested in. Its sentiment was very much based on the Apocalyptic Culture. The album captures our fear and frustrations. We had valuable help from Séamus Carroll (Tower Records/RMG) at the time, who helped us distribute and promote it.
Album No 2 - All Is Violent, All Is Bright

Unlike the first album, which is more electronic-based, this was our first true band effort. This album has a melancholy winter feel to it and is a deeply personal album. This album was a massive step forward and put us on the map.
Album 3 - A Moment of Stillness

Initially, this was just an EP, but in 2012 we added some older B sides to it and it became an album. After All Is Violent, All Is Bright, this felt like the tranquil aftermath. The first song, Frozen Twilight, is one of our most popular songs, passing the 11-million mark on Spotify to date. The mood is filled with loneliness, darkness colliding with beauty.
Album No 4 - Far from Refuge

I can remember being inspired by Pink Floyd's performance Live at Pompeii. This album is more about the musicianship and less about the electronic soundscapes.
Album No 5 - God Is An Astronaut

The self-titled record was a big favourite at our live shows with songs like Echoes and Snowfall.
Album No 6 - Age of the 5th Sun

This album was more of a progressive rock album with an apocalyptic feel. If there was one song I feel best represents this album, it is the title track.
Album No 7 - Origins

This, I guess, was our experimental album. It was a collaboration with musician, producer and good friend Pat O'Donnell (The Fountainhead). Origins was written with a different technique; we began with putting lots of noise soundscapes down first before adding the melodies and experimented with some vocals. Songs like Weightless and Reverse World featuring Gazz Carr (Butterfly Explosion) best demonstrate this.
Album No 8 - Helios | Erebus

This was an album about light and shade. I remember the song Finem Solis was inspired by a film called Melancholia. The song I feel best sums the album up, though, is the title track. It encompasses all the sides of the sound of that album into one song.
Album No 9 - Epitaph
Our last album, Epitaph, was written in memory of our seven-year-old cousin Oisín. The album is dedicated to him. He will always be loved and remembered.
What have been the highlights and the biggest disappointments over the years?
There have been many great memories. Playing in India for the first time and Russia to a sold-out audience. Supporting The Cure in Romania with Robert Smith watching from the side of the stage. Low points would be when Jamie left the band, when Lloyd had left for a few years and getting our equipment stolen in New Jersey on our first US tour.
Is your favourite album always the new one?
Obviously, at this juncture in time, Ghost Tapes #10 captures our current frame of mind, but we are very proud all our releases. All Is Violent, All Is Bright is especially dear to our hearts.
Hypothetically, if God Is An Astronaut had the chance to record a 10-track album with 10 of the band's favourite vocalists, who would they be?
Fearghal McKee (Whipping Boy)
Robert Smith (The Cure)
Kevin Shields (My Bloody Valentine)
Trent Reznor (Nine Inch Nails)
Mike Patton (Faith No More)
Bjork
Neige (Alcest)
Lisa Hannigan
Thom Yorke (Radiohead)
Glen Hansard
God Is An Astronaut will celebrate their 20th anniversary next year. Can you see/hear another 10 albums?
It's so hard to say. If I was to guess, I would say we have more years behind than ahead of us. But who knows? We are still very motivated, and I know there are at least a few more albums left in us.
What is the best wisdom you've received about life and music that could help the rest of us through the next 10 hours, days, months and beyond?
I think it's important to have goals in life and not procrastinate and wait for something to happen. Make the most of each day. It's crucial to enjoy what you do and, if you don't, it's never too late to change your life around.
Ghost Tapes #10 is out now on Napalm Records.